How adorable is this dress?
Well, my sweet friend, Daleea made it as part of her effort to bring home another daughter from China. I have been blessed to get to know Daleea and her family in person for the last few years and they are warm and wonderful people. She is a beautiful and faithful woman and mother. Daleea and her husband adopted their son Nicholas from Russia and their daughter, Hannah from China. She would love to bring another child into their sweet family but she needs YOUR help.
International adoption fees are extremely expensive and for many families in this ecomony it is difficult to raise such a huge lump sum. So, Daleea is selling these adorable bracelets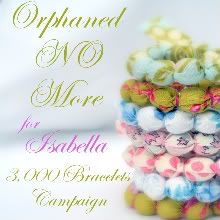 to raise money to bring a child home. PLEASE go buy one. In fact, go buy several!!! I bought 3 last week and plan to buy more for little birthday or Christmas gifts. They are so CUTE! Just a little money can make the difference of a lifetime for a child and for this family. I know we are not all called to adopt but we are ALL called to help others. This is an easy way for you to do so. Let's help make a family's dream come true!!!! Some days this blog gets about 1,000 hits. If each of those people bought just one bracelet, Isabella would be SO much closer to coming home to a family.
I will be giving away one bracelet to a lucky blog reader. Leave a comment of encouragement here for my friend Daleea (and tell me which bracelet and size you would like) to be entered. If you post about this on your site or add the blog button, leave another comment and you will be entered twice. Just click on the above image and you will be led to Daleea's site where you can copy the blog button and purchase the bracelets. Please help to spread the word. Be sure to enter by 9 AM Wednesday, October 7th.
Daleea also sells these darling clothes
here
.
P.S. The feedback on my last post has been truly amazing and I appreciate it. Each and every comment was so special. I hesitated so much before I hit the publish button on that post but I received a few very personal e-mails that let me know it was the right thing to do. I am so grateful that I was able to help a few of you on a very personal level.
Oh and how about my ADORABLE new header?????? Stephanie Wise created it for us and I LOVE it! She really captured the essence of each peanut. I had seen her illustrations around and always admired them but recently saw two blog headers she created and just loved them. Her blog button is on the lower right hand side of my blog.