This post is so long overdue. I kept writing it in my head starting the week after we took Will to college but each week I felt a little different and I wanted to get it right. It felt important to me to share the feelings I experienced for two reasons...one is that I like to keep this as a memory book of sorts for our family. And secondly, I wished that I had been more prepared for what I would feel and experience these last few months (that will be in part 2). I know that every single parent has a unique relationship and therefore a unique experience of launching their children. But this is our story.
First of all, the timing of when we took Will to college was tough. We needed to leave on Kate's first day of school. We would have loved to take Harry with us on this trip but he was already 2 weeks into school. He is a sophomore at a rigorous college prep school so he could not miss the week of school to drive up to Ohio and back. So, he stayed here with family friends. He and Dave did get to fly up in October to visit Will for a weekend though.
Kate did not feel comfortable staying here without us and her principal and teacher both agreed that she could miss the first few days of school without falling behind. So, August 22nd was Kate's first day of school and her school requires that everyone be present on day one at least until attendance is taken. We took her to school that morning. Then, Will and I went to his favorite local place for breakfast tacos as we were simply passing the time until we could pick Kate up from school and hit the road for Ohio. At 9:30 (official attendance time) we picked Kate up and starting driving northeast. It was actually a really fun road trip.
First day of 4th grade photo.


Will walking his little sister into school (for the last time ever!)
All packed up and ready to go!
Our first stop (after driving for 12 hours) was Franklin TN. Luckily, it was on our route and I had an even bigger reason for wanting to stop there. Shana is a fellow adoptive Mom who had one of the first blogs about her experience adopting Sophie Lu from China. I remember vividly when I found her blog as we were waiting for our referral for Kate. It was so awesome to find another Mom going through the same process as we were going through. We quickly became "blog friends" and after Kate came home and was having trouble sleeping, I emailed Shana and asked if we could talk about attachment and sleep issues. Then we starting talking on the phone. And we never stopped. We have become the
best of friends
but we had never met in person. So imagine my joy when I realized that we would be driving right through TN on our way.
I will admit that I was a tiny bit nervous. We have such a wonderful and deep friendship and I really did not want that to change. Well, our visit was FABULOUS! We had the best time with Shana, Michael and their kids. Everyone got along so well and we just laughed and laughed and laughed. It was perfect. In fact, we loved it so much that we stopped on the way home and extended our trip by a day to spend more time with them.
Kate, Sasha, Sophie Lu and Ollie
Kate loved the farm life!
Dave and I really love downtown Franklin too!
Shana, Kate and I doing our splits:) And yes, we can both totally do the splits, with wine!
After a visit with Shana and her family, it was time to head to Ohio and get Will moved in. We did however have another friend to visit along the way. My friend, Amie lives very close to where Will is going to school. We were friends with Amie when we both lived in Keswick, VA (Charlottesville area). We had not seen one another in several years but it was so easy to reconnect. Amie opened her home to us and we actually stayed there the night after we dropped Will off. But I really wanted Will to reconnect with Amie and her family too since they live so close to Miami.
We had a great lunch with Amie and then headed to Oxford. I'll be honest, I was starting to get nervous. Will is our oldest son and he and I are so close. We talk about everything. Somehow in the last two years, Will needed me less as a parent and a close friendship grew between us. I was terrified of saying goodbye to him. But I tried to hold all of that in. This was such an exciting time for him and I did not want my emotions to get in the way.
We pulled up to his dorm.
Since move in day was technically the next day, the campus was empty. We paid a small fee to be able to move in the night before (worth every cent). We pulled right up to the dorm and found his tiny, tiny room. A guy (Alex) on his floor who also moved in early volunteered to help us unload Will's things. I swear it took 20 minutes flat to get everything up into his room and about another 30 minutes to set it up. It was the easiest move in in the history of dorm move ins.
Isn't that rug awesome? It is really old and worn.
We found it at an amazing thrift store in a really nice part of town. I love it.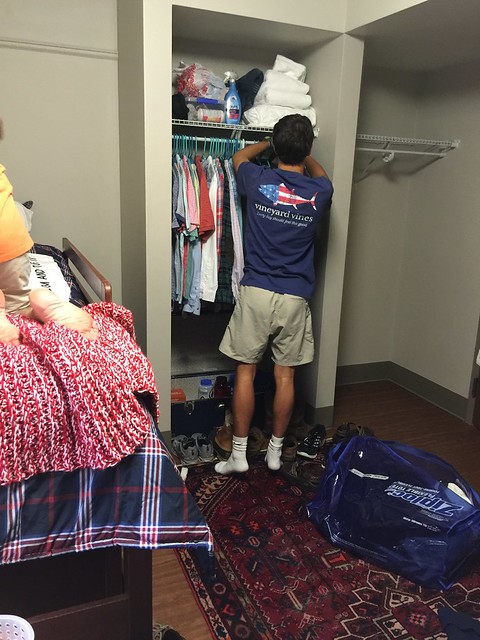 See that knit blanket at the end of the bed?
Well, Miss Kate spent all summer knitting that for Will to take to school. It is HUGE. Red and white are his school colors. It was the most thoughtful gift and he loved it. Here are some photos of when she gave it to him (right before we left)
And more dorm room pics...
After we got Will moved in, we ran a few errands, checked into our hotel and went uptown to eat dinner. Kate was so good during this trip. Parts were definitely boring for a 10 year old but she was a trooper and never complained.
While we were waiting for our table Kate and I spotted a rainbow.
I chose to take that as a sign that God was telling me it would all be ok.
After dinner, I insisted we get Graeter's ice cream uptown. It is made in Ohio and it is my favorite ice cream of all time. I
might
have had it 3 times in 24 hours on this trip!
Then, we went to Walmart to get Will some snacks and last minute things. I know it sounds silly but we had so much fun in Walmart at 10 pm that night. We were all tired and silly and goofing around. I have a little video of it somewhere. It sounds dumb but it was a fun little memory.
The next day, we took our time having breakfast, picking up Will's text books and walking around campus. The dorm room is SO SMALL and we wanted to give Will's roommate time and space with his parents to get settled. It would have been really challenging for us all to be crammed in there at the same time.
Will is a lifeguard at the rec center so I enjoyed seeing where he was going to work.
They walked across campus like this. I walked behind with tears in my eyes.
Once we knew Will's roommate was all moved in, we headed back to the dorm to meet him and his parents. Will's roommate is also named Will. They have so much in common. I really thank God that they became roommates because it seems like a great fit. They get along well and have become good friends. We met his parents (they're from Indiana) and we all went to lunch together. They were all so nice.
Big Will and Little Will. There are actually 5 Wills on their floor.
Apparently it was a popular name that year!
Then, it was time to say goodbye. The thing I had dreaded for months was the goodbye. I just did not know how I would handle it. I did not want to be a sobbing mess. After all, this is what we hoped would happen after 19 years of raising Will. But still, it is hard. We said our goodbyes at the car.
Kate definitely sniffled after we drove off. I think it was tough for her to say goodbye. Dave and I did surprisingly well. I don't think I cried at all. The truth is I felt SO happy for him. As he showed me around his new campus and town, I realized why he picked Miami University. Everything about the school was so impressive. I was a college professor for years so I am tough critic but I could see that it was the perfect place for Will. People were so friendly, welcoming and helpful. The campus is gorgeous and the college town is so quaint. It seemed like the quintessential college experience. I had peace in my heart that Will was exactly where he was supposed to be.
After we dropped Will off we went to explore a nearby park. About an hour later we realized he forgot all of his banking documents in the car, so we had to drive back and give them to him. So we had one more quick goodbye and off we went to stay at Amie's house. Amie made us a delicious dinner and we all went to get Grater's which is the best ice cream in the world and could cheer up anyone. She was such a gracious hostess on what could have been a tough night for us. Thank you Amie!
All in all it was a really fun and memorable trip. In part two, I write more about how the weeks were after we got home. And honestly they were very tough for me. I will post it tomorrow or Sunday.