I know that I am really behind on my posts. I am trying to live each day and soak in the moments. So many things are happening at once in our house. There is little time to blog about it all. But I do want to have this. This summer I am printing my blog to memory books for our family.
Mother's Day was extra special this year because my mom was here with us. She flew in from PA for Kate's first holy communion and we were so lucky that it was also Mother's Day weekend. Since I don't really fly and my Mom doesn't enjoy it either, we do not get to see each other that often. She usually visits each Spring.
It was a GREAT weekend. She really enjoyed some good time with us all. Friday night was Will's prom so she got to see that. Saturday was Kate's communion and brunch and a friend's party. On Mother's Day we went to Mass at Will ( and now Harry's) high school. We really enjoyed Mass there.
We took this right outside of Mass with the phone....
After Mass, we went out to brunch.
We have been going to this place for the past several years and we all really enjoy it.
While we have a few minutes to wait for our reservation, we always take a few photos outside at the hotel. These are often my favorite photos of the year.
I love this one of three generations of us...
I asked someone who was sitting on the patio to take these. He did a GREAT job.
Bruch was fabulous. Teenage boys definitely eat their fill at a lovely buffet brunch. Harry ate his weight in crab legs and desserts. I guess that is how he is growing so much.
After brunch, we took Mimi (my Mom) fishing. Dave, Will, Harry and Kate are really into kayaking and fishing these days. So, Mimi wanted to go fishing. There wasn't time to go to Galveston so we took her to a little inner city pond the kids like to go for short bits of time.
Harry caught a nice bass.
I think everyone caught a fish.
I looked back and apparently we went to a pond fishing last year on Mother's Day too.
BTW~ we release these fish back into the pond.
Dave gave me an external disk drive for my computer that I really wanted. The boys tried to get my favorite bundt cake but they were out/closed so they gave me an amazon card (which I LOVE) and sweet Kate made me this exploding memory box.
When you open the lid, pages open up. Kate put some favorite photos in there and I can add more.
It was such a thoughtful gift made with love.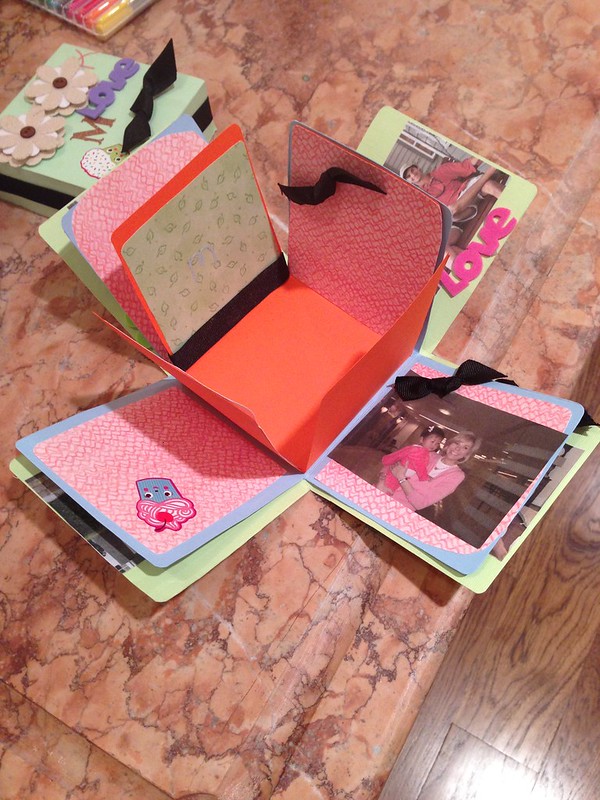 I will treasure it and the memories of this day for a very long time. I hope you all had a lovely Mother's Day.
We also had a lovely Memorial Day weekend.
We are very grateful to the men and women who serve our country and fight for our freedom.
This week is Harry's 8th grade graduation and the last week of school!