For the past few years, I have been an absolute sloth the week between Christmas and New Year's Day. And this year was no exception. We usually eat, watch movies, play games, read and laze about. This year we learned a new craft (post soon). I barely got out of my pajamas most days and even skipped my barre classes for the first time in 18 months. I also had a 2-3 day migraine that rendered me completely useless for New Year's Eve.
So, I am just now taking a look at our photos form Christmas Eve and Day. I absolutely LOVE Christmas Eve. I am not sure why but I am like a little kid on Christmas Eve and morning. In fact, I think I like Christmas more as an adult than I did as a child.
Last year the flu swept through our home for Christmas and really changed thing up. Harry missed Christmas Eve Mass and Kate woke up sick on Christmas day with fever of 104. We had to cancel Christmas dinner with our family. So, I was really excited that this year we were all in good health.
We always attend Mass on Christmas Eve as a family. It is important to me that we start the holiday celebrating the birth of Jesus. We snapped a few pictures before heading to church…
Photo Creds to Harry:0)
Some years after Mass we go to a restaurant for a nice dinner. Here in Houston it seems that the only restaurants open on Christmas Eve are fine dining and I am not always up for that. This year we opted to eat at home (which is my preference but the boys love the fancy dinners out). Since I cook a big breakfast on Christmas Day and a big dinner too, we got our favorite Italian take out earlier in the day and heated it up after Mass.

You can still see the red sauce on Harry's face;)


Kate and Harry goofing around before presents. They wrestle. So cute.
After dinner, the kids get one gift each. The boys always get a nutcracker and Kate usually gets an ornament (and sometimes a bracelet or charm). But lately Kate has been saying she wants a nutcracker like the boys. So this year Kate got a nutcracker too. And as you can she she was thrilled!!!
I think she liked it:)
Will and Harry were a little less enthusiastic and dramatic but they liked theirs nonetheless.
Just wanted to show you that they don't always cooperate for photos.
Let's try again kids…
Much better!
And this time with Scout (who does not get a nutcracker). But she loves to get in family photos;)
Kate got a sparkly nutcracker because I have yet to see a gymnastics one. Harry got one with a gingerbread house because he is the gingerbread house boss. And Will got a lifeguard one because he works as a lifeguard year round here (for the past 2 years).
After the nutcrackers, we read Twas the Night before Christmas and the story of the birth of Jesus. For the past few weeks, I have heard Kate practicing reading Twas the night before Christmas in her room. She asked if she could read it this Christmas Eve to our family.
At first, Will did not want Kate to read it because that is not our tradition (and she reads a little slowly) but he eventually came around. It is not an easy read (at least the version we have) but Kate nailed it!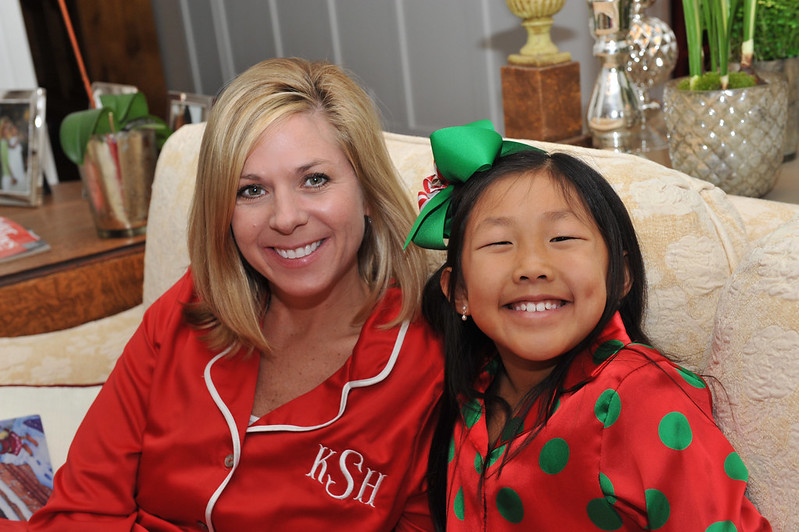 Next, Dave read the story of the birth of Jesus.
Okay terrible of WIll and Harry but I love how Kate is cuddled up to Dave…

Some goofing around….
After reading that, we went upstairs to the media room and watched Santa Claus is coming to town. The one with Burgermeister Meisterburger:) It was good family time.
Next up, a Christmas Day post.