As we all do, I often contemplate stepping away from the blogging world and then I am quickly reminded of the amazing people that I have come to "know" from being a part of blogging.  I want to tell you about two of them today...
Kimberley at the Seventh Diamond is truly one of the most altruistic people I have ever known. For 2 years (about) I have watched her help everyone.  She is constantly praying for people, surprising them with special greetings, hosting on-line baby showers, promoting fundraisers and raising awareness of special needs adoptions.  Kimberley truly is an inspiration to me.  Her whole life seems to be about helping others. She has made such a difference in so many people's lives. She collects items for children in orphanages, boxes them up and sends them off.  Now she is helping people sponsor orphans with cleft palate and cleft lip.
After many years of waiting to be matched with a baby from China, it is FINALLY Kimberley's turn.  The fees that adoptive parents must pay to the orphanage have recently gone up significantly and Kimberley's family needs help raising those funds.  If you want to help an amazingly giving family bring their cute pie home, please click here and make a donation at the chip-in on the side bar (every dollar helps them) or bid on an item. Note--The chip in takes a while to update but don't worry.  I know they are getting the donations and the graphic will eventually update.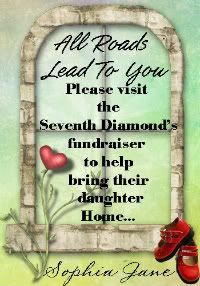 At the risk of being judged....I am going to admit something for those of you who may not be in the adoption community and might be thinking what I used to think.....I used to wonder why people would adopt if they did not have the money for all of the adoption costs.  I know that is awful but I did think that way at one point in my life. I did not think that in a judgmental way but in an ignorant way. Now that I have met these amazing people who have so much love in their hearts, I don't wonder anymore. I know that they have enough money to raise these children but the fees for travel and adoption come very quickly at the end and most people would be hard pressed to come up with it in such a short amount of time.  These families who need our help are reaching out to children who would never have a family.  Please help them if you can.
One incredible side story about Kimberley...her user name on Blogger has always been Red Mary Janes.  Imagine the feeling she got when she saw this picture below of her daughter waiting for her in China!!!  There was no doubt this little girl was meant for them!!!!
Now, there is another woman in blogland that has inspired me in different ways.  Sebi at Pearls and Grace is such an example of how God wants us to be in our lives.  Her faith and her devotion to her family is incredible.  This Sunday, she is giving a talk in the NYC area.  If I lived anywhere near there, I would be there to listen to her amazing message.  Go here to find out more information.  Also, please pray for Sebi or leave her an encouraging word as she embarks on such a big event.
Sebi from Pearls and Grace with her beautiful family!
Sebi and Kimberley, thank you for inspiring me to be a better person.  I wish you both the best as you embrace the big changes coming in your lives!!!!